Certified Athletic Trainers
Athletic trainers are on the front lines of sports medicine, helping athletes of all ages prevent and manage injuries, improve their performance, and enjoy an active lifestyle. Our certified athletic trainers collaborate with Bon Secours sports medicine physicians to make sure that athletes across the state of Virginia receive the highest quality care on and off the field.
Athletic Trainers are not the same thing as personal trainers. Learn about the differences here and here.
MEET OUR CERTIFIED ATHLETIC TRAINERS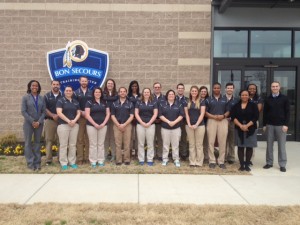 We've got a top-notch team of Certified Athletic Trainers working with our Primary Care Sports Medicine physicians and with student athletes across Richmond in public and private schools. We are proud to provide athletic training services to 17 high schools, colleges, and soccer organizations throughout Richmond, as well as many other community events. Click here to learn more about them.