Arthritis Rehabilitation
How much do you know about arthritis? Arthritis is the leading cause of disability in the U.S., and affects three-quarters of people over age 60.
The most common types of arthritis affect joints in the fingers, knees, feet, ankles, hips, back, and shoulders. Symptoms can include pain, stiffness, swelling, and difficulty moving a joint.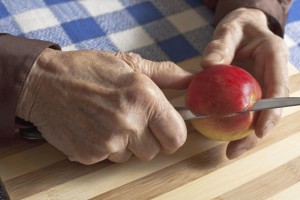 Bon Secours Physical Therapy and Sports Medicine's Response to Arthritis
Individualized treatment programs are developed based on an initial evaluation performed by a multidisciplinary treatment team which includes licensed, experienced physical therapists, and regular communication with referring physicians.
Arthritis rehabilitation program goals
Improve mobility, strength, and endurance
Increase functional skills
Reduce pain, stiffness, and discomfort
Improve knowledge and understanding of the disease process
Improve quality of life
Independence with Joint Protection Techniques
Physical therapy is a non-invasive treatment of arthritis
Therapeutic Exercises
Modalities (heat, cold, hydrotherapy)
Self-help Devices
Functional Skills Training
Pain Management
Joint Protection (Bracing and Splinting)
Energy Conservation
Stress Management
Patient/Family Education
Contact any of our locations in the Richmond area for more information on arthritis rehabilitation.