Dance Injury Rehabilitation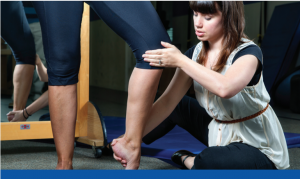 Recent studies have shown the prevalence of injury among dancers is extremely high due to different body types and other environmental factors. As the art of dance continues to change and place greater physical challenges on the dancer, the potential for injury occurrence increases. Health care providers who work with this select group need to possess a distinct body of knowledge and specialized skill to bring the dancer back to optimal performance status.
At Bon Secours Physical Therapy, patients receive quality care from talented and compassionate therapists who will have the knowledge necessary to address this highly specialized and select group of athletic performers. Dance injuries treated:
Lower Back Pain

Achilles Tendonitis

Posterior Impingement

Lateral Ankle Sprain

Plantar Fasciitis

Sever's Disease

ACL Repair

Snapping Hip (Coxa Sultans)

Anterior Knee Pain

Spondylolysis

Spondylolisthesis

Chronic and Acute Pain

We accept most insurance plans, including Tricare, Medicare, Medicaid, Aetna and Optima* Scheduling patients is easy and convenient. Call or fax the referral to the location most convenient for the patient. Our friendly office staff will assist you with scheduling so your patient can be seen within 48 hours. When faxing a prescription, be sure to clearly include the patient's name and phone number, so we can contact them and get them scheduled as soon as possible. We will assist with insurance authorizations. A personalized Patient Plan of Care will be faxed to your office after the first evaluation has taken place. Progress notes are sent before the next doctor's visit.
*Please visit BonSecoursPhysicalTherapy.com for the full list of accepted insurance plans.
Our Locations
Physical Therapy at Patterson Avenue
a part of Bon Secours St. Mary's Hospital
9600 Patterson Avenue
Richmond, VA 23229
Phone: 804-285-6818
Fax: 804-754-4292
Hours: Monday– Thursday 7:00 am – 7:00 pm, Friday 7:00 am – 2:00 pm
View map and get directions.
Bon Secours Memorial Regional Medical Center Physical Therapy
8200 Meadowbridge Road, Suite 102
Mechanicsville, VA 23116
Phone: 804-442-3670
Fax: 804-730-4148
Hours: Monday – Thursday, 7:00 am – 7:00 pm, Friday, 7:00 am – 2:30 pm
View map and get directions.
Physical Therapy at Bon Secours Training Center
a part of Bon Secours St. Mary's Hospital
2401 W. Leigh Street, Suite 110
Richmond, VA 23220
Phone: 804-325-8812
Fax: 804-213-3892
Hours: Monday – Thursday 7:00 am – 7:00 pm, Friday 7:00 am – 1:30 pm
View map and get directions.