How Soft Tissue Mobilization Helps Back Pain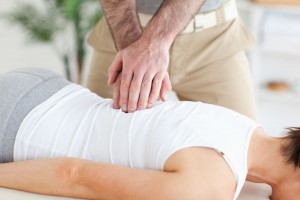 Summertime in Richmond offers many opportunities to enjoy the outdoors. It's a great time to enjoy cycling, hiking, outdoor yoga and other activities, but when back pain intensifies, it's difficult to find motivation. While stretching and medications can help reduce the ache, further therapy may be necessary to improve quality of life.
At Bon Secours Physical Therapy, our physical therapists offer multiple rehabilitation programs for patients suffering chronic back pain. Whether you are recovering from an accident or experience pain due to illness or age, non-invasive treatments such as soft tissue mobilization can help resolve back pain issues and expedite a return to normal activities.
What is Soft Tissue Mobilization
On the outset, soft tissue mobilization may look and feel like a massage. As the name implies, it is a form of PT in which the therapist manipulates the body's muscles, fascia, and ligaments to improve functionality. Used to alleviate back pain, soft tissue mobilization focuses on the muscles around the spine.
Types of Soft Tissue Mobilization
The method of soft tissue mobilization used on the patient will vary, depending on the patient's needs and severity of injury. Such treatments include:
Strain-counterstrain: a gentle form of mobilization used often on elderly patients

Graston technique: this physical therapy employs the use of a stainless-steel device to massage trouble muscles

Manual Lymphatic Drainage (MLD): this therapy targets areas of swelling and improves drainage of lymphatic fluid

Myofascial release: this therapy focuses on the contractile and connective tissues in the body, pinpointing knots and stiffness
Why Use Soft Tissue Mobilization
While manual tissue therapy helps reduce pain, the patient may receive other benefits. Mobilization can reduce swelling and encourage natural drainage of fluids, increase flexibility and range of motion, strengthen muscles, and reduce muscle adhesions. If you find your back pain keeps you from enjoying your favorite sports and activities this summer, it may be time to consider this therapy.
Bon Secours Physical Therapy has multiple locations in the area to serve you. Contact us today to learn more about soft tissue mobilization and other physical therapy programs we offer.