National Bath Safety Month: How Occupational Therapy Helps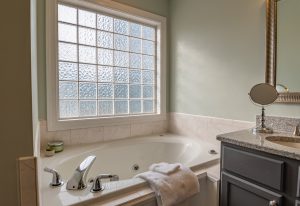 One can argue the bathroom is the most used room in the house. If you've had to wait in line in the morning while somebody else takes their turn, you would definitely understand! The bathroom can also be the most dangerous place at home if safety precautions are not taken.
According to the CDC, over three million older adults visit emergency rooms each year for treatment of slips and falls at home. Eighty percent of bathroom injuries, in fact, are caused by falls. As one would expect, wet floors and lack of protective measures are the main causes. The good news is that any type of injury in the bathroom is preventable.
At Bon Secours Physical Therapy, our expert occupational therapists work with patients who require assistance with everyday routines like using the bathroom and bathing. Negotiating a bathroom of any size can be a challenge if you experience a limited range of mobility or other issues. January promotes National Bath Safety Month and the many methods of injury prevention at home. Some ways occupational therapists help people face the challenges of bathroom safety include:
Use of long-handles. When it's difficult to stretch one's arm for washing and reaching for grooming supplies, OTs work with patients to properly use ergonomic equipment. Long-handled reach devices and back scrubbers help those with short range of motion, and lower the risk of exacerbating arm and shoulder pain.
Use of grab bars. Long metal bars placed in the shower or tub stalls, and other places in the bathroom, can help patients with balance issues as well as mobility. People use grab bars to guide themselves safely into the bath, and to pace themselves as they move. OTs may consult with their patients on where to have bars installed, how high to install them, and what type of grip to use.
Staging and Pacing. As you recover from an illness or accident, it may be necessary to change how you function at home. In the bathroom, this may involve repositioning certain objects so they are within better reach, or adding equipment like shower chairs and elevated toilet seats. Occupational therapists help patients determine which changes are necessary as they recover, and help them to use this supplemental equipment and regain their independence. 
Bon Secours Physical Therapy Occupational Therapists assist patients with improving their quality of life in all aspects, at home and work. Contact us today for more information on our programs.
Source: CDC Fall Facts