Richmond Hope Therapy Center
Mission Statement
Our mission is to provide superior quality therapy services utilizing a team approach, embracing the needs of patients with a variety of diagnoses and encouraging patients and families to reach their full potential.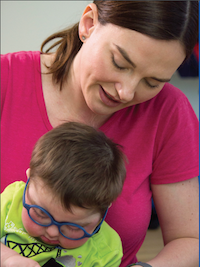 Virginia's First Intensive Therapy Center Richmond Hope Therapy Center is the first clinic in Virginia to offer highly effective intensive therapy. Originally inspired by Eastern European methods, intensive therapy has been growing in the U.S. since 2002. Children receive up to three hours of therapy per day, five days per week for three consecutive weeks in our individualized programs. Increased time with the patient and team of professionals, all our therapists work together to help children reach their highest potential.
Physical Therapy for Children and Adolescents
Innovative Therapy Delivery
Richmond Hope Therapy Center (RHTC) provides intensive therapy options for children, adolescents and young adults under age 22 with complex medical conditions. With a multidisciplinary team, including physical therapy, occupational therapy and speech-language pathology, we work together with the family to create a treatment plan that works best for the child. Richmond Hope Therapy Center has moved toward a model of providing episodic care, encouraging a flow of therapy interventions with some concentrated period of time therapy. This incorporates what the child has learned into their everyday lives at home, school and in the community.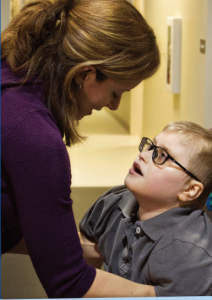 Intensive Therapy
It is typically recommended children receive up to three hours of therapy a day, five days a week for three consecutive weeks. With a combination of traditional and innovative tools like the TheraSuit Method and the Universal Exercise Unit (UEU), our focus is on treating your child's every need. These tools challenge multiple body systems and ultimately increase strength and the ability to make functional activities easier.
Physical, Occupational and Speech-Language Therapy
Our goal is to provide comprehensive care in the episodic care model. We incorporate expertise from all three disciplines, as appropriate for each child, in order to meet the patient's current development needs.
Staff
Leah C. Batten, PT, DPT, NCS
Physical Therapist
Board Certified Neurological Clinical Specialist
Erin Cottos, PT, DPT
Pediatric Physical Therapy
Jessica Hammond, PT, DPT
Pediatric Physical Therapy
Shannon LaSpina, PT, DPT, PCS
Pediatric Physical Therapy
Shannon Richard, DPT
Pediatric Physical Therapy
Cindy Richards, MS, PT
Board Certified in Pediatric Physical Therapy

Sarah Smiley, DPT
Pediatric Physical Therapy
Courtney Spears, MS, PT
Pediatric Physical Therapy
Brandi M. Staats, MS, OTR/L
Pediatric Occupational Therapy
Whitney Stratton, MS, CCC-SLP
Pediatric Speech-Language Pathologist
Allison Turchan , PT, DPT
Pediatric Physical Therapy
Katherine Zweier, PT, DPT
Pediatric Physical Therapy
Location
Richmond Hope Therapy Center
4900 Dominion Blvd.
Glen Allen, VA 23060
phone: 804-747-HOPE (4673)
fax: 804-747-4655
RichmondHopeTherapy.com