Prevent At-Home Bath Injuries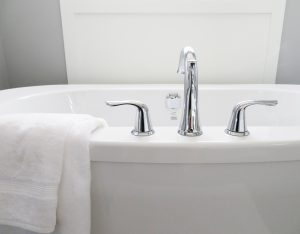 Accidents happen, often at home. According to the Center For Disease Control, close to 250,000 adult Americans annually suffer some type of non-fatal injury while in the bathroom (source). Of this number, over thirty percent of accidents are related to bathing, such as slip and falls. While not every accident in the bathroom leads to an emergency room visit, incidents in general may be preventable when precautions are taken. 
January is National Bath Safety Month. During this time of awareness, people are advised to take a moment to consider not only how often they utilize their bathrooms but what measures can prevent minor and major accidents. At Bon Secours Physical Therapy, our physical therapists work with patients living with agility issues and orthopaedic pain that can contribute to accidents at home. Balance and fall prevention is an important part of the full continuum of care we offer, and other recommendations can help maintain a safe space at home.
Make Room
Older houses and apartments are likely to have smaller bathrooms compared to newer constructions. Space comes at a premium, but you require room to move. Avoid letting dirty laundry and towels pile up in the pathways, and organize shelves so items aren't at risk for falling and causing harm. Set non-slip area rugs in place to prevent slips out of the tub.
Stay Balanced
Adhesive treads for your tub and shower floors, ADA-compliant handles, and slip-proof mats for when you exit can help reduce the risk of a slippery bathing fall. If prolonged standing is an issue for you because of joint pain or other health problems, invest in a shower chair for comfort. Using a handheld shower head with an extensive hose, too, can help regulate water use for safety purposes.
Get Help When You Need It
Preventative care is key to a long and healthy life. Bon Secours Physical Therapy programs not only treat patients recovering from injury, but aid people who require lifestyle adjustments due to age or illness. Contact us today about the various programs we offer.