National Nutrition Month – "Go Further with Food"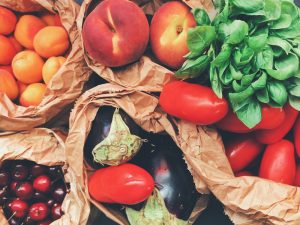 By Abby Forman MS RD
As we "March" into National Nutrition Month 2018, take a moment to think about what you leave behind each day.  National Nutrition Month is an education and information campaign created by the Academy of Nutrition and Dietetics (AND), aimed at inspiring the country to improve their health one bite at a time.  The theme this year is "Go Further with Food", which asks us to look at how much food we throw away and how we could work to waste less in the future.
A study based on data from the USDA in 2012 estimated that 31-40% of the food grown here in America is thrown away each year.  That comes out to more than $218 billion lost.  Food waste comes in many forms and there is no one solution to the problem.  Each small step we take to reduce waste at home can have a big impact on our personal wallet, with an estimated $1500 lost to food waste each year for a family of four.  It also can have a big impact on the country as a whole.  The National Resource Defense Council (NRDC) estimates that reducing food waste by just 15% would be enough to feed 25 million Americans.  That is about half the number of Americans estimated to face hunger currently.  Get started today with these 8 suggestions for 2018.  One person is all it takes to start saving the world.
Decrease the amount of food you purchase by making a meal plan for the week and create your grocery list form only the foods on it.

Clean and chop vegetables immediately when you get home to encourage quick use.

Store fruits and vegetables properly in the fridge (40

°

F and below) to slow down the ripening process.

Chop and freeze over-ripe fruits and wilted vegetables for use in smoothies or soups.

Freeze leftovers in individual portions for grab-n-go lunch or dinners.

Re-use leftover meat or vegetables in another dish such as making grilled chicken into shredded chicken tacos.

Download the "Is My Food Safe" app to avoid throwing away foods that are still perfectly fine to eat.

Donate unopened non-perishables to a food bank instead of throwing them away.
If you have mastered these 8 suggestions, step your savings game up by checking out these resources: www.eatright.org/resource/homefoodsafety/safety-tips/food/produce-from-purchase-to-plate-steps-to-reduce-food-waste .