Four Reasons to Correct Your Posture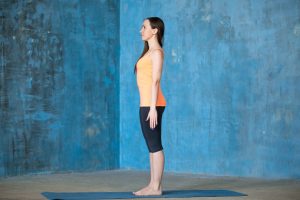 May is Correct Your Posture Month. While it's good to use this time to create awareness for good posture, it's something one should practice throughout the year. With workers gradually returning to offices after years of remote employment, the message of good posture is especially important.
Many articles point out how to maintain good posture, but it's important also to focus on why we should sit with our backs straight, why we shouldn't slouch, and why it's best to keep our feet on the floor and our shoulders square when we type. Reduction in back and joint pain is an important factor, but there are other benefits:
Improved respiratory function: When you sit and stand properly, you clear your airways. Medical studies have shown that bad posture can lead to breathing problems. Correcting these issues, therefore, can help bring more oxygen into the bloodstream.
Reduced headaches: Applying proper posture in the head and neck area can decrease instances of headaches. If you spend forty hours a week sitting at a computer, watch how you sit and keep equipment at the proper eye level to prevent slouching.
Improved stature: You may not lose weight through good posture, but physically you'll look better! By standing up straight you show off your best self to the world, and in turn your self-confidence may boost.
Better aging: The sooner you get into the habit of improving your posture, the better you'll get with age. You'll feel younger, you'll have more energy, and you'll maintain good flexibility to keep you moving through your golden years.
Bon Secours Physical Therapy physical therapists are on hand to assist patients with a variety of programs designed for physical rehabilitation and to improve quality of life. Our experts can assist you with exercises and therapies for relieving back and neck pain and improving posture. Contact Bon Secours Physical Therapy today to learn more.