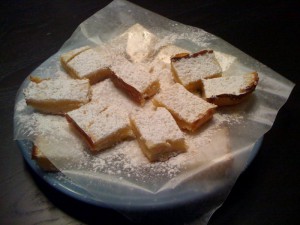 Please don't get the wrong idea. I truly do love the holidays.
But when Christmas is over – and that would be about now – I am sick of looking at a certain platter of cookies that's been sitting on my kitchen counter for way too long.
It's covered in homemade goodness that's loaded with sugar and empty calories.
Did I eat some of those bite-sized lemon bars?
You bet.
Did I have one or two of those cookies that look like snowflakes? Umm, yes.
And that's exactly why I feel no guilt about packing up the treats and putting them somewhere high that I can't reach without standing on a step stool.
It's my way of declaring that indulging in holiday sweets is over. Time to stick to eating healthy foods. Time to focus on losing weight I may have gained over the holidays.
Perhaps putting the cookies away is more of a mental exercise. A small, private way for me to acknowledge that moderation is a choice. A choice I can make.
Go ahead, join me.
I know you're tempted.
Alice Warchol is a freelance health writer and fitness instructor.
+ Read about Fitness and Weight Loss