Tips For a Healthy Summer Picnic and Barbecue
There's nothing like a summer picnic to bring family and friends together. So far, the weather has held up nicely for locals and tourists enjoying downtime at the beach and parks. If you have reserved a shelter or invited guests to a gathering in your backyard, you'll know planning the party is half the fun. Make sure to have plenty of sunscreen and water on hand so everybody stays refreshed and protected, and, of course, don't forget the food!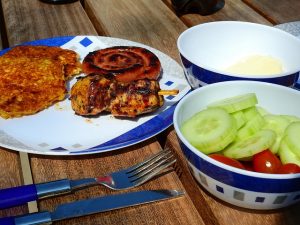 Summertime is synonymous with treats either loaded with salt, soaked in sauce, or sticky with sugar. Hot dogs, s'mores, ice cream, potato chips… everywhere you turn you're tempted. Add food to a social event and you may feel compelled to eat more than your fill. However, it is possible to enjoy a barbecue or picnic without the guilt. Whether you're the host or signed up to bring a side, here a few tips to promote healthy eating this season.
Hold the Mayo: Browse any summer buffet and you're sure to find potato salad, macaroni salad, and coleslaw, all staples of the perfect picnic and typically heavy with mayonnaise. A few helpings of any of these dishes will pile on calories, but you can swap out the mayo for a healthier binding ingredient that also enhances the flavor. Seek out recipes that use avocado, ground mustard, or Greek yogurt.
Look for Leaner Cuts: Yes, you can grill out and still enjoy a nutritious meal. Be aware of the meat you choose to cook. Grill chicken without the skin to reduce calories and fat, shop for lean cuts of steak with the fat trimmed, and use marinades low in sugar. How you cook meat, too, is as important as what you grill. Be mindful of flipping steaks, chops, and burgers – the more you do it can reduce carcinogens on your food.
Say No to Soda: When the temperature rises, you're tempted to grab the first cold drink you see. Water quenches the thirst and hydrates the body better than anything else, but for guests who want options, offer up low-sugar alternatives to soft drinks. Try lemonade and limeade sweetened with honey, or iced tea infused with peaches or berries.
No Need to Sacrifice: If you're trying to eat healthy, you'll wonder what to do about dessert. Summer brings toasted marshmallows and ice cream bars and other sugar-loaded treats, but it's also the season for strawberries, blackberries, and blueberries. Combine mixed berries with a slice of angel food cake for a nice ending to a meal. If the grill is still active, try splitting a banana lengthwise and cook lightly on each side, then drizzle with chocolate sauce for a unique treat.
Don't forget, you can always browse our recipe board on Pinterest for inspiration. We have close to 300 recipes for salads, appetizers and main dishes for you to enjoy.