Shelly Mickens, MS, LAT, ATC, CSCS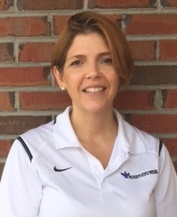 Shelly joins the Bon Secours team and Powhatan High School as a 1997 graduate of James Madison with a Masters from Middle Tennessee State University. She has been a Certified Athletic Trainer since 1997. She comes with years of experience in the collegiate, high school and clinic settings.
Shelly spends her free time running her own skincare business and enjoying activities with her family. Shelly and her husband, Sam, have two young children.