Lori Strobl, PT, DPT, PRC, Rehab Manager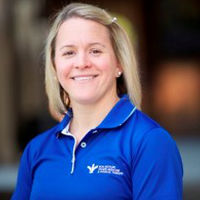 Lori brings a diversified treatment background and an abundance of knowledge to Bon Secours Richmond Physical Therapy. She has been a Physical Therapist practicing in outpatient orthopedics in Washington, D.C. and Richmond, Virginia since 2005. She has had the opportunity to work with pediatric, geriatric, cardiac, workmans' compensation, and athletic populations.
Lori excels in the treatment of spine and extremity injuries, as well as developmental disorders, cardiac conditions and congenital anomalies. She specializes in treating runners and triathletes, patients with Postural Orthostatic Tachycardia Syndrome, pre- and post-operative orthopaedic patients and patients with workmans' compensation injuries.  She has gone to a variety of continuing education courses to further her education and is currently working towards a certification from the Postural Restoration Institute (PRI®). This treatment approach focuses on achieving and maintaining biomechanically neutral positions for each individual's optimal functioning.
Personally, Lori brings sports experience to the clinic as well. She graduated from The College of Charleston in Charleston, South Carolina where she was the captain of her swim team. Lori continues to participate in athletics through competing in triathlons, completing short and long distance running races, playing outfield on her coed softball team, and trying to bring down her handicap on the golf course.