Julie Falge, MS, LAT, ATC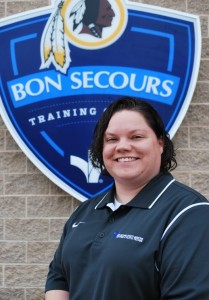 Julie Falge is our certified athletic trainer at Huguenot High School.  Julie earned her B.S. in Athletic Training at East Carolina University and earned her master's in Sport Psychology online at California University of Pennsylvania. After graduation, Julie received the opportunity to work as an intern athletic trainer with the VCU volleyball team. Julie is nationally certified by the National Athletic Trainers' Association and licensed by the Virginia State Board of Medicine.
She currently resides in Chesterfield, Virginia where she enjoys spending her time watching movies, riding bikes and relaxing with her wife and dog Grover.