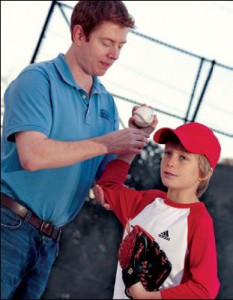 As many parents know, athletic injuries are not reserved for professional athletes who play in front of millions of television viewers.
Proper training and seeking treatment when needed begins when a child puts on their first sports uniform.
Many children are playing baseball and softball this spring. Although baseball and softball have lower rates of injury compared to other sports, it's the degree of injury severity that has pediatricians concerned.
To reduce the number of overuse injuries that occur among children, the American Academy of Pediatrics has issued some basic recommendations for parents and coaches.
First, children need to be taught proper training and conditioning, which includes correct throwing mechanics to avoid injury, according to a press release from the AAP.
"Not everyone may know exactly when an athlete begins to show signs of overuse," said Dr. Stephen Rice, who co-wrote the AAP policy statement. "But it is important to know to never pitch when one's arm is tired or sore. Athletes must respect the limits imposed on throwing, including pitch counts and rest periods."
Other recommendations from the AAP include:
Be prepared to call 911 if necessary. Have access to an automated external defibrillator if a player experiences cardiac arrest.
Postpone or cancel games during extreme weather.
Repeat instruction and practice for young baseball and softball players so they can acquire basic skills while learning the fundamentals of the game.
"Baseball is America's pastime," said Dr. Joseph Congeni, who co-wrote the policy statement. "In order to minimize the risk of injury and maximize enjoyment of the game, coaches, parents and youth baseball and softball players should be familiar with an 'ounce of prevention' guidelines. Being aware of a few issues regarding overuse, appropriate equipment, environmental factors and those rare but catastrophic injuries, can help accomplish these goals and ensure kids are having fun and staying healthy playing ball."
+ Improve Your Sports Performance with Slow Motion Video Analysis
+ Read about Physical Therapy Programs